Europa League 2014 review
As the second leg of the Europa League 2014 round of sixteen is just by the corner, it is important to take a preview at the eight games that will play on Thursday. This article will also reveal the key statistics that will decide every single tie. Currently, 2 Italian strong teams are in the verge of missing the quarter-final as last year's losing finalist ever looking strong in the present dispensation of the 2014 competition. Thursday's set of matches is appearing to be a must-watch event on the TV. Below is a comprehensive detail of the Europa League round of 16 second leg fixtures.
Anzhi will be staying home to rattle it hard with AZ Alkmaar playing away. Records have shown that the first round threw Anzhi off the track by losing to AZ Alkmaar on a lone goal aggregate. The second leg prediction for Anzhi and AZ Alkmaar remains 1-1. Both teams are looking for the final.
Another great match in the list is Benfica vs. Tottenham. In the first match the English side were humiliated due to their loss against the great Portuguese team. Having been defeated on the ground of the Portuguese team, prediction holds that the second leg will be a 2-2 draw.
Still on the competition's round of 16, Fiorentina and Juventus struggle for a 1-1 draw in the first round. Experts have mentioned that there could be a similar scenario in the second leg keeping both teams on a 2-2 draw.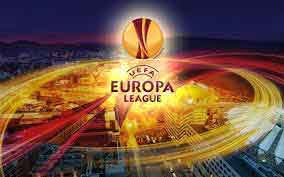 Valencia successfully crushed Ludogorets by 3-0 in Europa League First Leg Results. Without much deliberation, victory is close to the Spanish team as prediction holds that there may be something like 2-1 in the second leg.
Europa League 2014 final is still far
Not too far on the same day, Victoria Plzen will face Lyon. They have to fight a 1-4 aggregate in the previous leg. Experts have made the predictions on this match to remain at a 1-1 draw.
Most of all, the clash of the Titans will be noticed again as Napoli negotiates with FC Porto. Napoli lost against Porto in the previous round by 0-1. Prediction holds that Napoli will come out triumphantly against FC Porto maintaining the score at 3-2.
While Real Betis humiliated a Spanish counterpart Sevilla by 2-0 in the first round, prediction holds that the return will favor Sevilla by 3-1.
In addition, SV Salzburg faces FC Basel with a goalless draw in the first round. The scenario may occur, but the time with a 1-1 draw in the second leg.
With this comprehensive highlight, you are sure to get the soccer predictions for the 2014 Europa League perfectly.